Thermography
The use of infrared cameras for thermal imaging during inspections
Final Analysis property inspections provides for FREE, thermal imaging to all of our clients on ALL of our property inspection.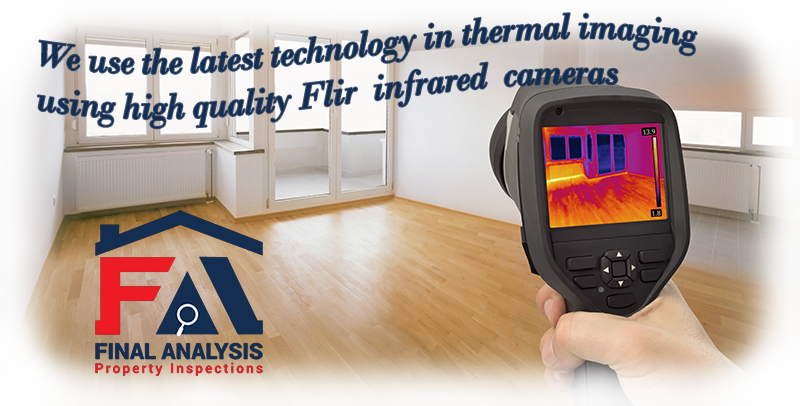 Infrared cameras are a sophisticated technology that we use for fast, reliable, accurate building diagnosis in a wide range of building problems, from evaluating Heating and AC systems, over-heated electric panels, pipe clogs, insulation issues, hidden leaks and moisture problems.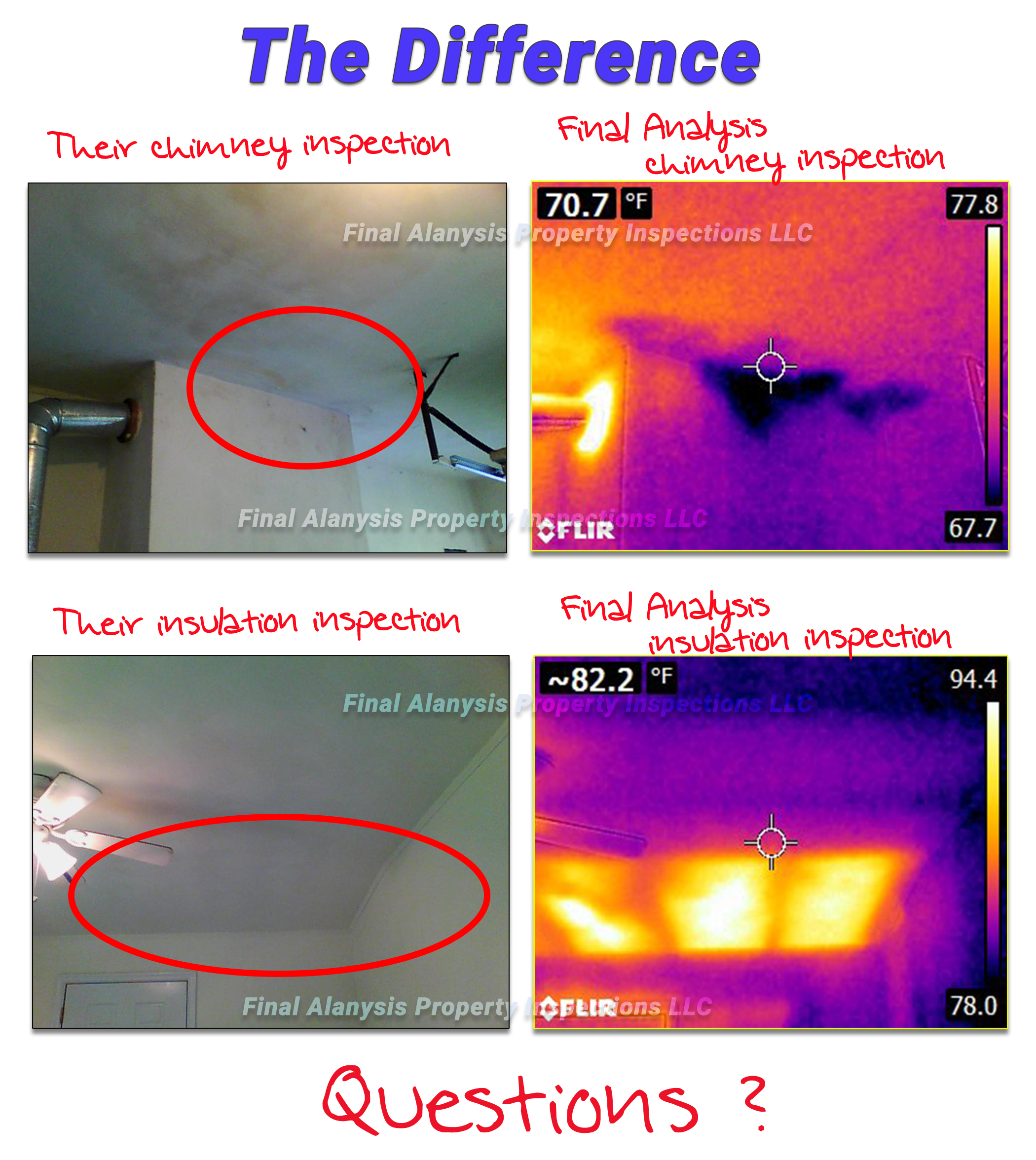 We truly see what other inspection company's are missing.
Evaluating a home with an IR Camera is a simple process, but one that most home inspectors do not provide because these cameras are very expensive. Other companies charge an additional fee as an added inspection service. The truth is, it's just another tool in a professional inspectors tool box and every customer deserves this service on their inspection and should not be tricked into paying for it as if it's some exclusive magical service. With many bank-owned or flipped homes getting a quick paint job for a fast sale, water stains may be covered up. It is important to note that the Infrared Cameras do not see through walls, cabinets, or concrete. Rather, they show differences in the surface temperature of a material. It is these temperature differences that may indicate moisture or another anomaly such as missing insulation. It's not a silver bullet but it is a powerful tool in our inspection arsenal.
---
The picture below shows a severely rotted header frame that could not be detected without the use of thermal imaging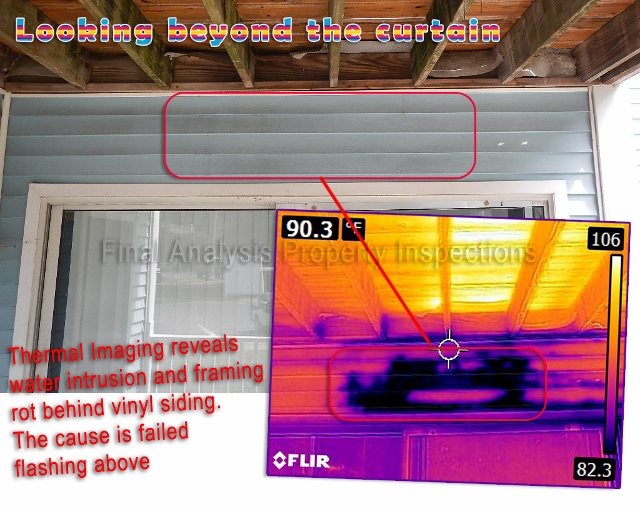 ---
We can even see water intrusion and damage behind exterior siding.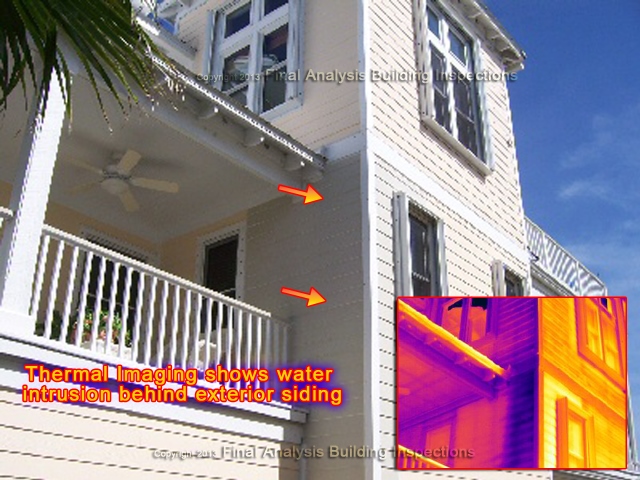 ---
In this photo we are testing radiant floor heat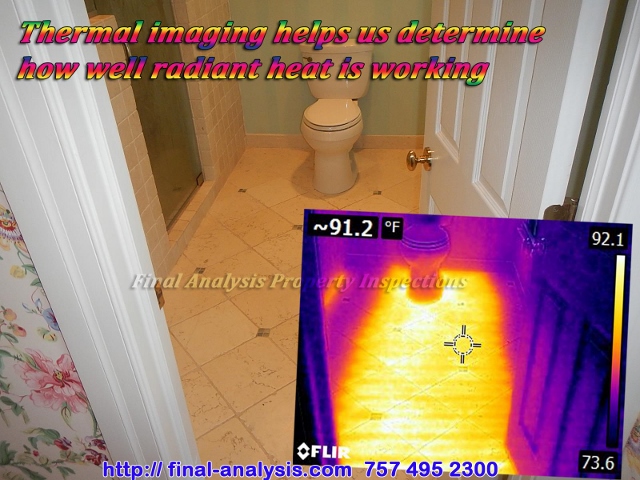 In this photo we are testing radiant ceiling heat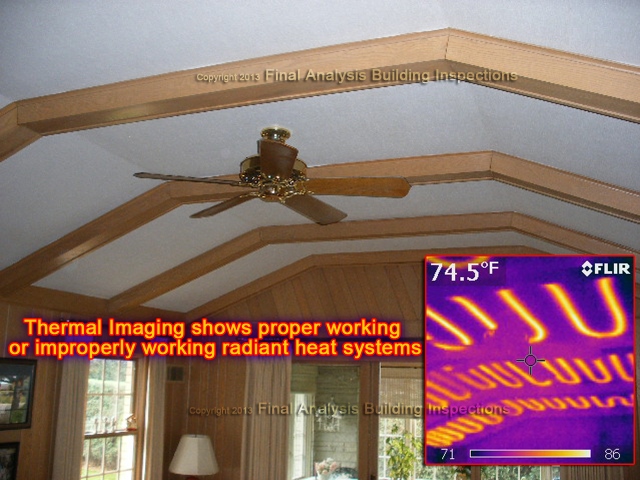 ---
This photo is of a newly remodeled home that looked and felt dry to the touch. The foundation had to be excavated and the wall rebuilt.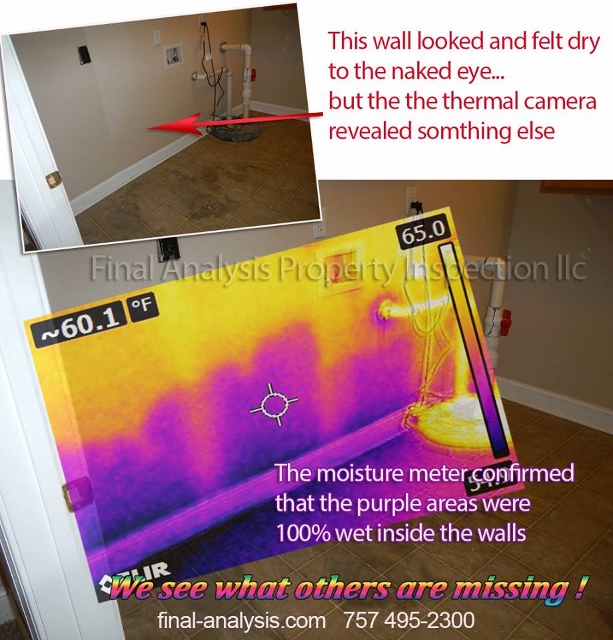 ---
Sometimes we can discover problems that can't be physically touched like this overheating service panel breaker.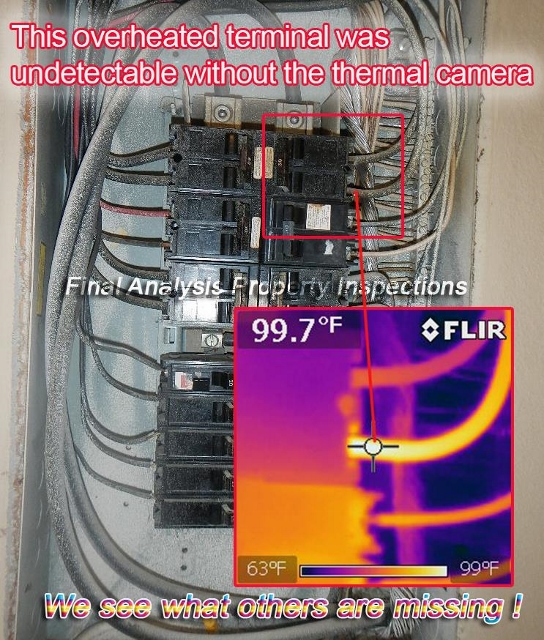 ---
Harmful water intrusion detected on a freshly painted ceiling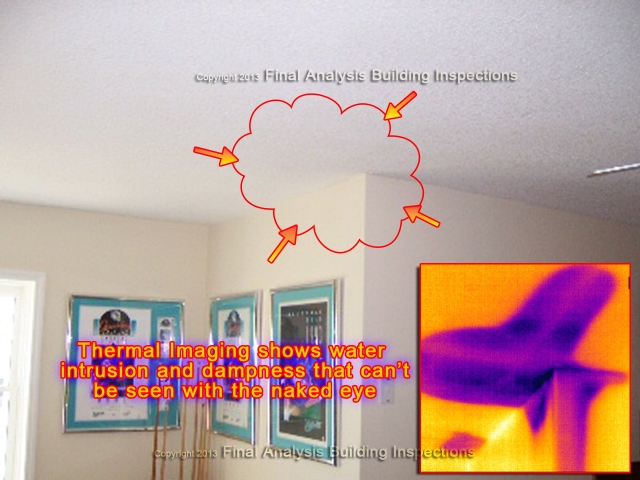 ---
The number of things we can inspect and discover with the infrared camera are too numerous to list here.
When evaluating which inspection company to use for your home inspection, please consider our commitment to you in using this technology. Final Analysis uses Infrared Cameras at every inspection in Virginia Beach, Chesapeake, Newport News and Williamsburg. Each of our home inspectors are equipped with and "IR" camera because you deserve it and your house worth it?
Even the U.S. Dept. of Energy recommends a Thermographic Inspection
Let us provide FREE thermography on your inspection
or call 757 495-2300